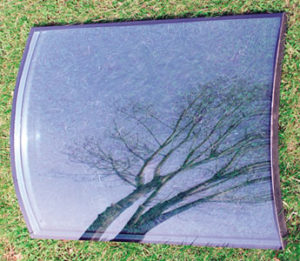 Our company has a new tempering and fully automatic bending furnace.
By simply inputting data into a central computer can get curved glass with a minimum size of 300×300 mm and maximum of 5500 x 2450 mm (maximum length is 5500 mm generatrix) and minimum radius of curvature of 1200 mm. 
Modern technology for bending of large glass surfaces allows our company to curve the glass to a specified radius and create unique profiles for installations in commercial and residential applications as curtain walls and storefronts for luxury areas, to round of corners in facades, for canopies, elevator enclosures, handrails and spiral staircases, partitions etc.
Depending on the application design we can produce monolithic, double glass units or laminated bent glass.
Dimensional parameters are:
– Radius and arc length of a circle
– Rope and string height
– Generatrix length
– Thickness of glass
In our factory we can temper curved glass sizes up to 5500 mm x 2450 mm.