STRUCTURAL GLAZING  –  SPECTRUM SG – STRUCTURAL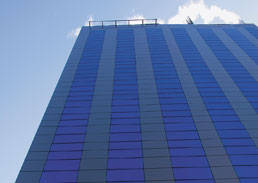 Glass facades according to the principle of "structural glazing" – a technology in which glass is fastened with silicone adhesives to the load bearing construction.
The units are installed on a support attached to the building structure. The sub-frame must be capable of supporting the self-weight of the glass elements, wind loads and the resulting loads.
Plate to plate joint of glass are to be sealed on place with silicone sealants from Dow Corning – market leader in structural glazing sealants adhesives.
Flush glazing facades, uniform and elegant, without any frames on the outer side.The design of modern facades with excellent solar control and energy efficient is a team work. The close cooperation between architect, glazing system installer, sealants and adhesives manufacturer and glass specialist is therefore indispensable.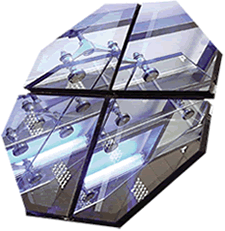 Conventional structural facade systems
Spectrum Industries experienced during more than 10 years many structural glazing frameless systems (four sided or two sided) from: Schuko, Rayners, Hueck, Wykona, Alumil aso. Drawings and samples are submitted to sealant manufacturer Dow Corning which certifies the compatibility of all glazing materials and follows up the project from design to fabrication and installation. 
Our company is approved and audited by Dow Corning to carry out the production of special glass for structural glazing purpose, the personal having completed the training sessions in Belgium and Germany.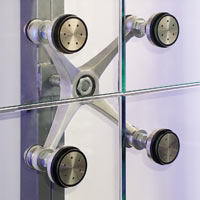 Effective solutions for holding glass panels either monolithic or with sheers or double glazing( tempered and/or laminated), through point fixing systems, successfully used for facades curtain walls, skylights, roofs, canopy structures, additional exterior glass skin (double skin facades).
Inside constructions are possible for glass partitions, interior wall cladding, overhead glazing etc.
The most common option, also known as spider glass type, is a system for point-supported glazing in which the glass sheets have 4 or 6 countersunk drilled holes into which countersunk stainless steel bolts acting as point-fixings. The support elements that hold the fitting can be space frame, glass fin or tension cables.
Advantages: maximal transparency, mechanical flexibility absorbing the effects of flexion and allowing the creation of complex and sophisticated designs, natural lighting, increasing the feeling of spaciousness.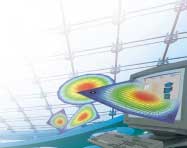 Professional soft- ware for static calculations
Our company offers, in the area of "Structural-Glazing", a comprehensive supply from individual consultation to the manufacturing of the special glass based on professional soft-ware for static calculation:
-Correct dimensioning of glass panel thickness ( vertical and horizontal glazing ) in conformity with specific requirements of the project
– Calculations and checking up of static calculation for imposed glass thickness
– Defining the type of glass to be used and identifying the maximal stress admitted conform to European standards
– Designing the geometry of glass panels (rectangular or circular shape ); color displaying of fixing options
– Identifying and calculation of effects due to strikes of snow or wind – linear and concentrate
– Graphics upon stress distribution on each side of glazing system (tridimensional display of deflection)
– Calculations and display of drilling options