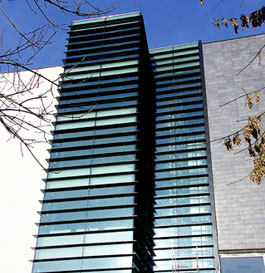 HEAT-STRENGTHENED GLASS – SPECTRUM SEMIDUR – HS
The glass producers and processors have to meet the increasing demands of modern architecture providing new forms and functions.
The necessity for greater thermal impact and mechanical resistance of glass resulted in development of special heat treating procedures.
The resistance of tempered glass to the physical and heat effects grows 3-4 times bigger compared to normal float glass.
The values for minimum bending strength: 120N/smm compared to 30N/smm to normal float glass.
High impact strength => determined with the aid of falling tests conf. to EN 52337 (pendulum test).
Resistance to thermal shocks across the pane surface = 200 K (normal float glass achieves a max. of only 40 K)
When breaking itself, it does in small pieces with a minimum capacity of cut, thus drastically reducing the possibility of injury.
Spectrum Industries is the only company on Romanian glass processing market to conduct Heat Soak testing for tempered and heat strengthened glass. Heat soak is a destructive test, which heats the glass for 4-8 hours at accelerated temperatures up to 290 degrees. This accelerated testing process reduces the likelihood of breakage by converting impurities such as nickel sulphide inclusions. Heat soak testing is already part of European glass processing standards, wherever necessary to prevent personal damages when using toughened glass on facades, structure glazing etc.
Heat soak testing must be specified as additional during order placement.
What kind of heat treated glass we offer?
By adopting the latest technology our company is able to process any type of toughenable glass with thickness between 4-19 mm (13-19 mm-heat strengthened;4-19mm fully tempered ) and maximal dimensions 10000 mm x 2530 mm (minimum dimensions: 100x250mm); the maximum side ratio is 1:20.
– clear float glass
– the new generation of high performance soft coated Low E 1.0-1.3 (emissivity 0,04-0,8)
– body-tinted float glass
– magnetron coated glass
– patterned glass
In respect to manufacturing method there are two distinct heat-treated glass products, fully tempered and heat-strengthened.0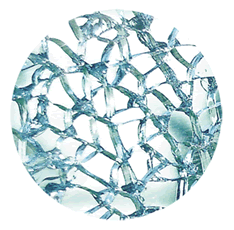 SPECTRUM DUR – T THERMALLY FULLY TEMPERED GLASS
This glass is particularly resistant to impact, strike and bending stresses as well as thermal loads( 4times bigger compared to normal clear float ). In contrast to normal float glass that results in sharp-edged pieces when it breaks, with Spectrum Dur T a fine mesh of small, mainly blunt-edged glass pieces results when the stable state is destroyed. The danger of injury if the glass breaks is reduced considerably. Recommended to architectural.
OUTSIDE AREAS: curtain walling, structural glazing, windows, canopies, doors, displays ,overhead glazing, etc. Glass tempering is a must in glass areas subject to important thermal load ( projects involving high absorption glass on south oriented facades or proximity of inside heating systems).
INTERIOR CONSTRUCTION : doors and glass partitions, furniture, shower cases , large surface-area lift glazing , staircases ,balustrades ,glass floors, swimming-pool , large aquaria etc. 
SPECTRUM SEMIDUR- HS HEAT-STRENGTHENED GLASS
Heat strengthened glass (semi-tempered), has twice the compressive strength of typical annealed glass.
In the event of breakage a fracture structure like that of non-tempered glass occurs, i. e. only a few radial fractures occur outwards from the centre of the break keeping them attached to frame. This very special kind of glass is provided with higher mechanical resistance to pressure and shock than a technically-cooled glass and strongly recommended for spandrel areas (high levels of heat absorption) or (as laminated safety glazing) in breakage risk areas.

Special safety requirements: facades/spandrel areas/heat treated monolithic glazed railings at locations where the general public is circulating => heat soak test is necessary (conforming to DIN 18516 ) , protection of glass edge to eventual damage (risk of injury by falling ) – notice that tempered glass could initially fall as complete pane ( angle 10 degrees to vertical ) and only after break to small pieces. According the "Technical requirements for linear glazing" monolithic tempered glass will be installed at maximum 30 mm from nearly surfaces.