SPECTRUM AG – ALL GLAZING
DOORS, PARTITIONS, DAY LIGHT SYSTEMS, GLASS BALUSTRADES, GLASS ROOM ENCLOSURES, SHOWER SCREENS
Tempered glass assures compatibility to metal fittings generating modern architectural structures able to break down the barriers between interior and exterior of the building, connecting and dividing where necessary.
Glass allow architects and designers the freedom to realize their unique visions without the intrusive framing of traditional building materials applications as they benefit now from the substantial support of the glass processor .
It is sensible to use our expertise even during the planning stage and following up to processing and installing of our tempered glass. Depending on specific project our company can both offer the necessary materials (glass and glass processing: tempering, drilling, grinduing, polishing, beveling, waterjet cutting out + metal fittings) or do the complete work with our specialized team.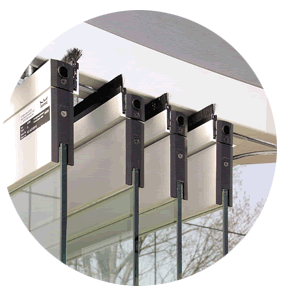 Sliding glass wall systems and partitions meant for interiors – office and domestic applications
All glass walls with / without floor guides or point-fixed. Glass elements are intergrated to the system as double or singleaction doors in single-leaf or double-leaf designs. Variable pivot point, locks etc.
Applications:
– Malls, Hotels, Office Buildings
– Interior Store Entrances
– Airports, Museums, Sports Arenas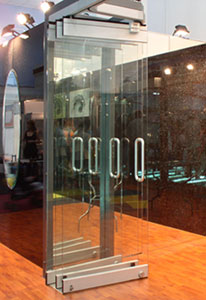 Full glass framed doors or sliding door systems integrated in toughened glass assemblies
— full glass doors integrated in sliding walls
– security doors in transparent, colored or otherwise personalized glass, with various metal fixtures
Applications:
– home
– office
– commerce
– hospitals and clinics
– hotels
– restaurants etc.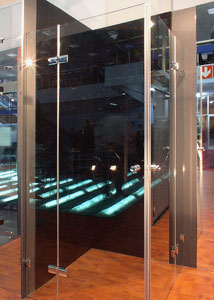 Tempered glass cabins, in a variety of shapes and colors, with moisture resistant fixing elements. The glass panes can be clear or silk screen decorated, with various ornamental effects.